2013-10-01

Development on the new LGK echo ( down ) is the firmware for the automation.
This can now be programmed after numbers and not after machines or programs.
( Can be rewritten to songs e.i "Apache" etc. )
Choose one PATCH/NUMBER or change one, then wich machine to use and then your
settings for sound. Store it. Thats it. The eeproms have been reduced to 2. One for patches
and one for 8 external sounds like Binson etc. It can handle up to 500 patches
( on our test machine is set to 170 patches). The etap2 sounds is already in the board.
2013-03-04
A new LGK echo is under development. This echo will have all the same sounds that the etap2hw
have and two extra eeproms for other sounds / echo-machines. ( Binson Baby and B2 etc ).
Total sound capacity is 96KB plus the included sound that are from start in the OCT SKRM board.
The automation reads data from 3 eeproms (Banks) that will gives 3*32KB = 96KB of memory.
( If you use 32 bytes for each patch this will give you ~ 3* 32000/32 = 3000 patches. )
This three eeproms can be reprogrammed by the USB / I2C interface on the motherboard.
As extra it have a extra dsp echo modul that emulates the old spring echos ( very fast echos ).
This spring echo sound can be applied to the other echo sounds for a deeper sound effects
or used only by it self by the user.
Opamp modules is used instead of single opamps IC:s.
Here is the new echo under a automation test. More pots will be mounted later for the extra dsp
functions as a extra feedback control etc. There will be 2 extra push buttons too.
Here it is in a little vintage style box. Buttons are Set, Forward, Backward, Fast forward,
Fast Backward and Store. The 3 first pots are the orginal FV1 control pots and the number 4 is
for the extra DSP echo level. Pot 5 is for extra DSP feedback. Pot 6 is the guitar input level.
Here is a special DSP machine LGKFV1 Valve Echo, handmade by LGK.
This is not a cackle machine but it is a real echo machine that emulates the old
vintage echo machines. This machine is building with the same DSP modul that the ETAP2HW,
but use valves instead of opamps for the real valve sound.
It can have more programs and patterns and it have a display that shows which machine or pattern
you use. Its only for AC 230 Volts.
Here is a new DSP Echo Unit, ETAP2HW. Build by me LGK.
8 program with up to 5 different sounds / patterns at each program.
Emulating the MEAZZI 1 + 2 Echos, Roland Space Echo 301 and VOX LongTom. Sounds great.
This Echo machine gives you the right vintage and The Shadow like sound.
Will be sold as a kit without box, finish build, or build after the customs ide.
This machineis available with automation or manual settings. ( Image with manual settings).
This machine is still under development. For exampel, for more programs and sounds.
This machine can also be used by battery. Use contact for ETAP2HW kit or prebuild.
Here is a automations board for our echos.
The pattern that is on the Display shows: Prog#0 pattern E, after ETAP2HW EMU list ( down ).

Building manual for the ETAP2HW can be download here or from echotapper.nl ( ETAP2HW projects )
Here is a new ETAP2HW echo under construction with automation and with a new front panel.
Here is our new ETAP2HW Echo (box) with automation and the new front ready.
Box dimensions is only 316x137x44mm.
Underside of the box. ( No rubber feets here yet).
Image down under this text its a new automation for the ETAP2HW under development.
It can store 145 yourself set patches.
In the ETAP2HW program 1. "Echomatic 1J Classic" you can save 30 patches.
In the ETAP2HW program 2. "Echomatic 1F Classic" you can save 20 patches.
In the ETAP2HW program 3. "Echomatic 1 F S" you can save 20 patches.
In the ETAP2HW program 4. "Echomatic 2 B"(bank) you can save 10 patches.
In the ETAP2HW program 5. "Vox Long Tom" you can save 25 patches.
In the ETAP2HW program 6. "Echomatic 2 Classic" you can save 20 patches.
In the ETAP2HW program 7. "Roland SpaceEcho M5" you can save 15 patches.
In the ETAP2HW program 8. "Reverb / Tremolo" you can save 5 patches.
The LCD window shows the Echomachine type and the patch number,
and it shows the pots values from 0 to 255.
The patch A. should have around 25 in value on pot1. ( SPEED / HEAD4 )
The patch B. should have around 75 in value on pot1.
The patch C. should have around 125 in value on pot1.
The patch E. should have around 175 in value on pot1.
The patch F. should have around 225 in value on pot1.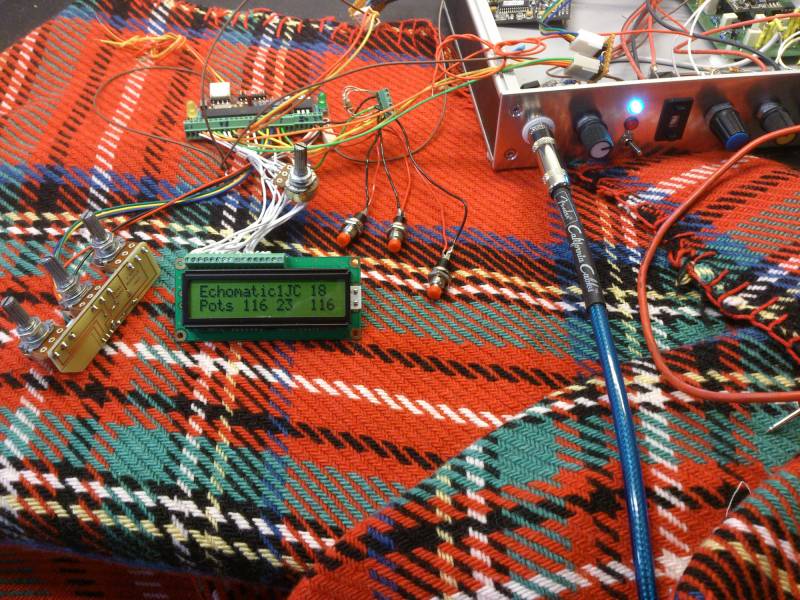 Here is a rev. of the above automation program, programmed in the orginal LGK Etap2hw automation panel.
Some modifications has to be done to the panel to work with the new automation program.
Here we can see that a revision has been done to the pot1:s showing values.
It always shows the values in decimal but when it is on the right head-patch value it shows the character
for this machines head-patch. This will help you to find the right sound of the ETAP2HW machine
program and patches.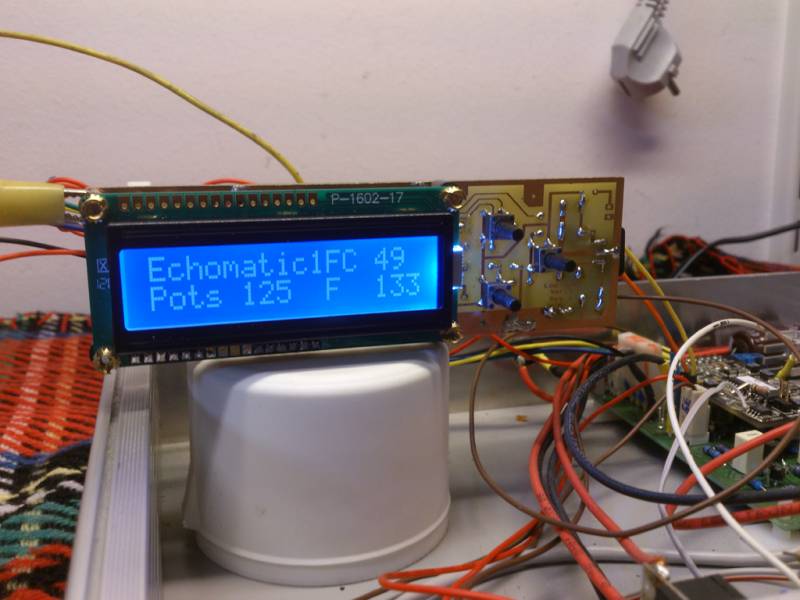 Down:
Here is the Echomatic 2 Classic show in the LCD window and the number 126.
This machine has no head-patches therefore its only show the pot1:s value in decimal. ( head 4 level)
Little about the function: ( Rev. 2013-01-31 )
Scroll with NEXT button or go back with the BACK button to the right echomachine type that you want.
You have 25 numbers (or see the list above) that you can choose between in the same machine program.
The automation always reads the patch from the memory, therefore the pots are locked when you
scrolling between patches.
When you will change or do a new patch for the machine type (number) that you choosed you must call
the locked pots.
Press NEXT+BACK buttons at the same time and you get the pots unlocked.
A "star" instead of the "s" character in the text "Pots" is showing, and it means that you now can set
the pots to the sound you want.
With the pot1 you can set to which head-patch setting ( A,B,C,E or F) you want.
When you are ready with all your setting of the pots and with your sound, just push the STORE button.
Now the yourself set patch and number is in the memory.
After you have played around on other machines and maybe done some settings there too you have all
this patches in the memory to use. You can change them again if you like (about 100000 times).
If you repent after you unlocked the pots for a new settings just push BACK or NEXT button and
that will lock the pots again.
When you push the STORE button the LCD is coming to show the ETAP2HW BCD code and the patch number
just a second before it is stored in the memory.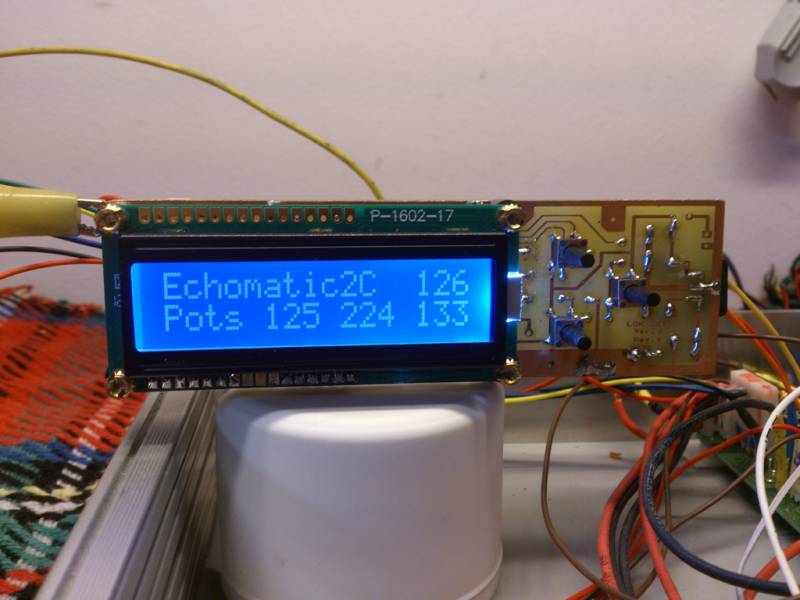 A new motherboard with etap2hw sound ( without op input and output stages ) that can be
connected to valve stages or opamps stages. Have 165 self set patches. Binson sound included.
( Can be update by PC and I2C, this is under development ).
Here is for a customer, one LGKFV1 Valve Echo under building with our new front panel.
Ready. Built in light for pots. New nicer jacks.
A very small LGK FV-1 Echo that can be placed into a guitar and used with a 9 Volts battery.
Here is one of our homebuild mordern echos. 6 electronic "heads" , 18 digital pot , 1 processor and
buttons to change patterns and one lcd to show which pattern. All programmed in the PIC:s eeprom.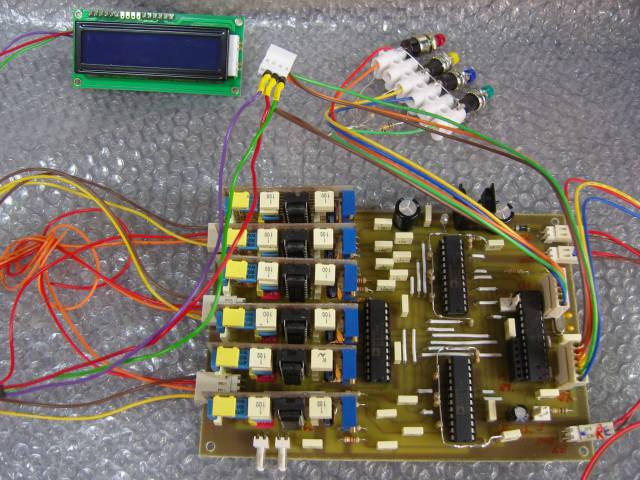 Here we had borrowed and cuopled to the valve stages ( Meazzi like ) to get the vintage sound.
The images shows a box with a 4 "heads" manual settings electronic echo with valve stages.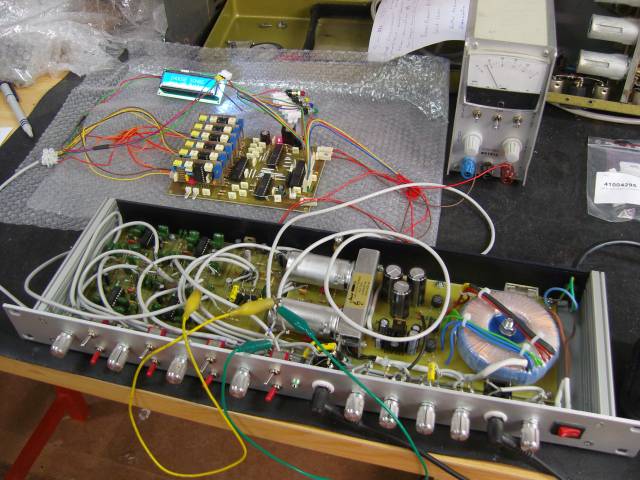 Some other of our work. Rewired Binson Baby drum.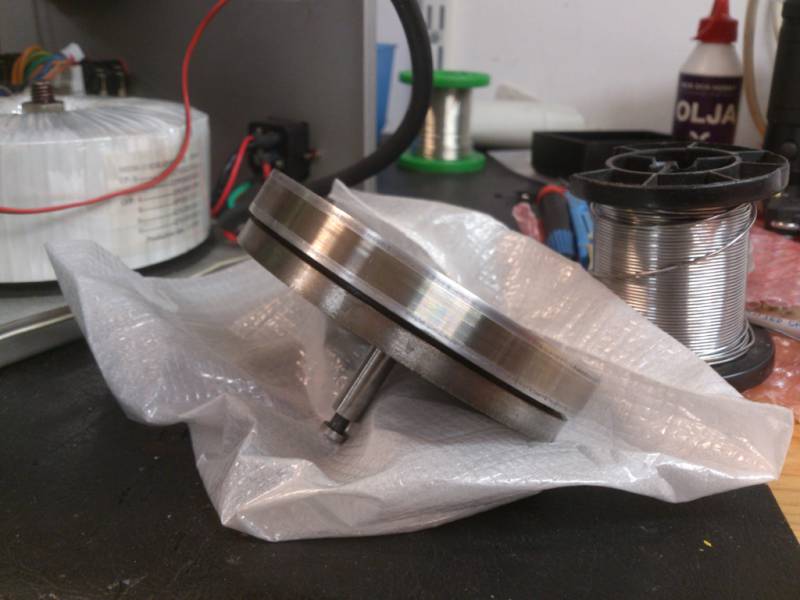 lgk-teknik.se © 2012 Lars Göran Karlsson 2012